I have to say right off the top that I haven't really acquired the taste for Robert Scoble's video-blogging or podcasting (or whatever we're calling it now) over at Podtech.net. I liked reading his blog from time to time — in some cases for the comments — but I just haven't gotten into the video stuff for whatever reason. But I watched his recent interview with Sun Microsystems' CEO Jonathan Schwartz and I thought it was pretty good.
In part, it was good because Schwartz seemed comfortable talking with Scoble, and that's a huge part of a successful interview (unless you're doing an ambush, of course). What makes that happen? Obviously it helps if interviewer and subject know each other, but it also helps to be the kind of person that puts others at ease, which Scoble (love him or hate him) genuinely seems to be. And that's when you get the good stuff.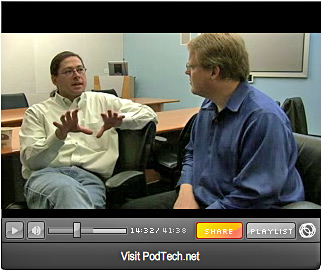 So after all the questions about Sun's business, and the iPhone chat and some talk about other things, around 35 minutes in Scoble asks about Schwartz's comment on his blog that a train accident in 1987 changed his life. And that's when you start to see the human side of Jonathan Schwartz. Not that he wasn't human before, but he was still pushing a corporate message. The stuff about almost dying was a lot more human than that, and therefore to me more interesting.
I also think it says a lot that Schwartz — a CEO, who could easily get someone to call Matt Mullenweg, or send him an email and get his problem with Sun's Startup Essentials program sorted out — publicly admits that that company screwed up and offers to make it right. A PR gesture? Sure. But a great response nevertheless, and something that is likely to get a whole lot more attention than just fixing things behind the scenes.