Another Christmas arrives to find Toronto largely snowless – although we got just enough to make the lights look pretty, after what was one of the warmest Novembers since the Pleistocene Era (not to be confused with the more malleable Plasticine Era). Many of the T-shirt-clad people lining the street for the annual Santa Claus parade no doubt felt sorry for poor old St. Nick, in his ermine-trimmed coat and boots (synthetic ermine, of course), but I expect that plenty of others were more than a little thankful for some global warming. Everyone into their SUVs – and whatever you do, don't stop idling!
The various members of the Ingram family (eastern Toronto division) made it through the year with their usual aplomb, thanks to careful planning, a few lucky breaks, and the occasional 20-dollar bill slipped to a teacher along the way. We had quite the generation gap this year, with Zoe in Grade One (she's six) and Caitlin in Grade 10 (she's 15) – Zoe was learning that the round part of a "b" goes to the right and the round part of a "d" goes to the left, and Caitlin was learning about polynomials (whatever those are). Meaghan, meanwhile, was playing the flute and learning French and all the other joys of Grade 6.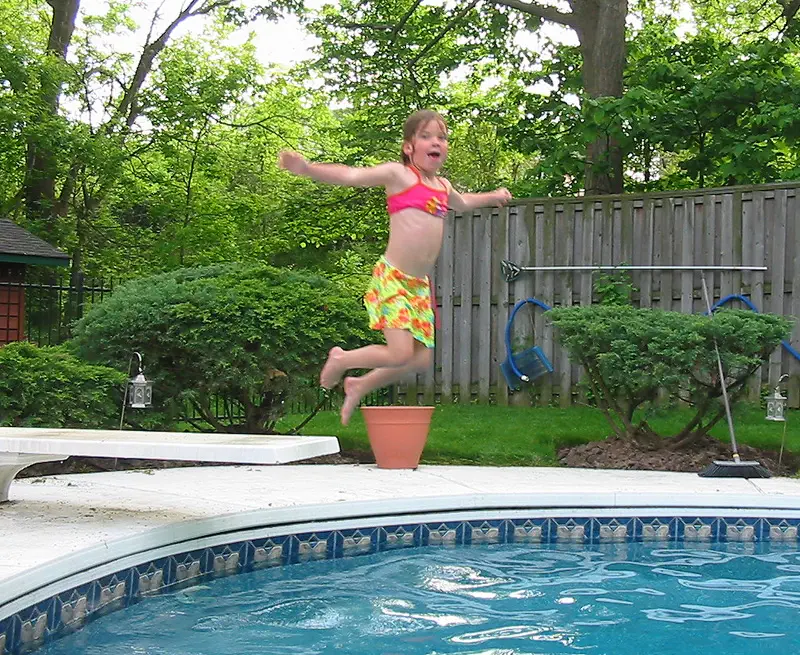 We spent some time in sunny Florida, courtesy of Becky's mother and father, where the girls learned to play shuffleboard, Zoe enthralled the gathered throng at the weekly sunset "drum circle" on the beach with her interpretive dance (that's her on the right) and we saw the famed Lipizzaner stallions. Caitlin experienced the rollercoaster at Busch Gardens while on a school trip to Virginia Beach (that's her on the right), Zoe learned to ride a two-wheeler (she didn't hit that car, in case you're worried) and Meaghan made some new friends at camp. Oh yes, and she also turned eleven. The girls practiced their diving and puttered around in boats, and even chipped in to do some painting at the cottage.
In between there was plenty of jumping in the pool (not our pool, alas), some beautiful sunsets, and a little golf (thanks Bob), not to mention naps for both young and old. In the fall, Meaghan and Zoe got dressed up for Hallowe'en (Caitlin's too old for that sort of thing, of course) and so did some people who should know better. Later, there was time set aside for squeezing through caves and walking in the woods, or sitting in trees and the wearing of pretty hats. And now we are quite ready for Christmas, with all the various treats prepared, including the ginger cookies and the star-cookie Christmas trees. And the girls have decorated not just their own Christmas tree but their cousin Jessica's too and have met Santa.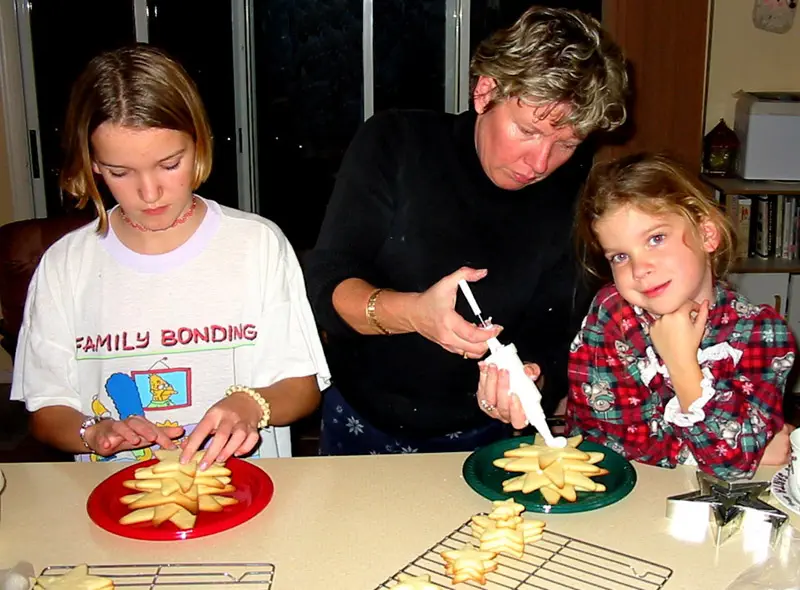 And so it goes, as Kurt Vonnegut Jr. used to say. Another year filled for the most part with fun and frolic (and the occasional splinter, bee sting, hacking cough, vomiting spell, heart surgery, etc. — but let's not talk about that). If you have a lot of free time on your hands and feel like surfing through some more pictures of the Ingrams, you can find some at mathewingram.com/photos. If you want to drop us a line using that newfangled e-mail thing all the kids are talking about, Mathew is at [email protected] and you can reach Becky at [email protected]. We here at Ingram and Co. wish you and yours all the best of the season.