I've taken a little time off from deciphering classified U.S. diplomatic cables on the WikiLeaks website to bring you some news about the Ingram family — or my little branch of it anyway. As usual, I am going to leave out most of the disappointments and exaggerate the highlights until they are all out proportion, because that's how I roll in these Christmas letters. As just one sign of what a great year it has been for the entire Ingram clan, I am typing these words on my iPad — one of the few times that I have been able to get it out of the clutches of one of my lovely daughters, who seem to believe that I got it for them to play Angry Birds or Fruit Ninja.
The year started as most of our recent years have: with a lovely New Year's party up in the frozen north country near Buckhorn (yes, there really is such a place), at the Farm with Marc and Kris and several other friends and family members. We skated on the pond near the old farmhouse and played ice bocce, a challenging game involving frozen Tide bottles filled with water, and even did a little skating and hiking on the trails around the property, when the weather co-operated. Then it was back to the city and back to reality. Caitlin headed back to McMaster for the last part of her second year of nursing, and Meaghan went back to Grade 11 and her musical theatre obsession, and Zoe went back to finish off Grade 6 — the end of primary school.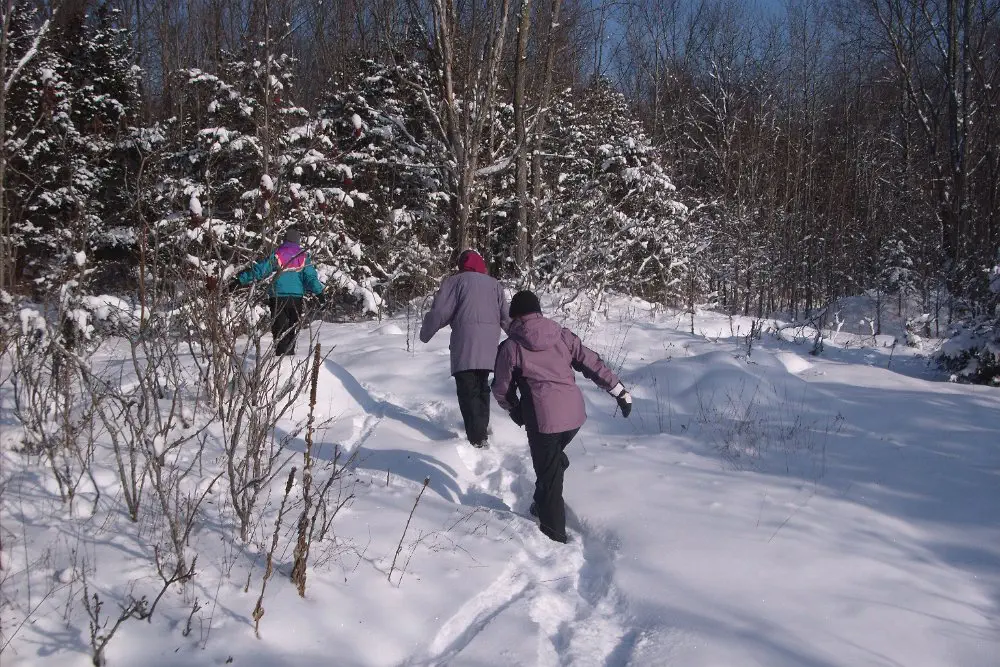 At the same time, I made a life-changing decision. No, I didn't decide to shave off my beard or convert to the Church of the Subgenius (already a member, I am happy to say). I left the Globe and Mail after 15 years working there in a variety of writing and editing roles — most recently as the paper's first "community editor," helping reporters and editors try to understand Twitter and Facebook and comments on news stories and how to handle all these new tools for "social media." On January 18, I became a senior writer with a technology blog network based in San Francisco called GigaOM, named after founder Om Malik, who I got to know several years ago.
Leaving the Globe was hard, and not just because my mother doesn't really know what to say now when people ask her what I do for a living. I worked with a lot of great people, and I enjoyed being part of a great media company, but it was time to move on, and if you like writing about technology and how it is changing the media and changing our lives — and I do — then the web is where you need to do it (I think this Internet thing is really going to take off). GigaOM is a great outfit with a terrific team of writers and editors, and visiting San Francisco every couple of months is pretty great too, even if it is rainy and cool a lot of the time. And while I was there on my inaugural trip, I met Craigslist founder Craig Newmark and interviewed him at his favourite cafe in the Haight.
But enough about me. As we have most years, we visited Ottawa for Winterlude with Becky's sister Barb and her family, as well as Becky's brother Dave and his family. We skated the canal and stuffed our faces with beaver tails and poutine and maple taffy rolled up on a stick, and a great time was had by all. In March, we headed down to Florida with Meaghan and Zoe, and visited Becky's mom Edie and her boyfriend Ron at Ron's place on the east side of Florida — where we took in a baseball game — then headed over for some time on the west side near the Gulf, where Edie still has a place. Coming back to winter was hard, but by then spring was on its way.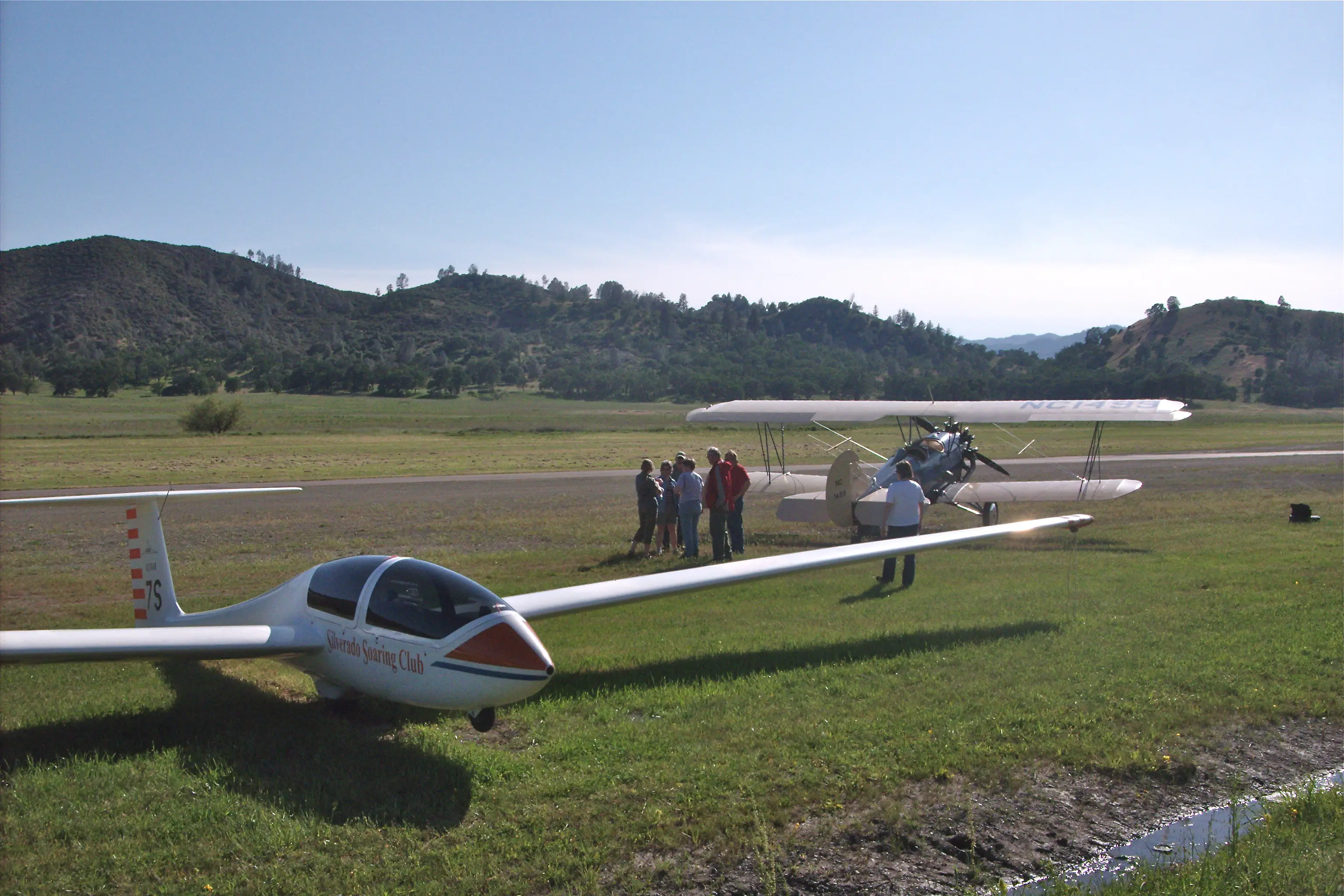 In May, we took a fantastic trip to California with some friends, renting cars and driving up Highway 101 north of San Francisco through Sonoma wine country (where we stopped at a number of great wineries, both big and small) to a little town called Redway, where Kris's family has a couple of cabins deep in a giant redwood forest, built by her grandfather. We spent a week there, hiking through the giant trees in Humboldt State Park, driving the winding mountain roads out to Shelter Cove on the "Lost Coast," kayaking with some sea lions near the tiny town of Trinidad, and hiking through Fern Canyon — where they filmed part of Jurassic Park because it looks like the dawn of time. On the way back to San Francisco we stopped at a small airfield and went for rides in a glider as well as a restored open-cockpit bi-plane, which was incredibly fun. And we also did some typical San Francisco things, like climbing the Coit Tower and visiting Alcatraz.
May also saw the fifth annual Mesh conference, which drew a sell-out crowd to hear people like the Privacy Commissioner of Canada and author Joseph Menn talk about privacy online. The team at the excellent TVO show The Agenda even showed up at Mesh to film a panel on the topic — which I was a member of — and host Steve Paikin did a terrific job with it as usual. Mesh put on its first spin-off conference in November as well, called MeshMarketing, which was also a great success.
In June, we had Zoe's graduation from Grade 6, which was a star-studded event that involved a team of hair-dressers known as sister Caitlin and her friends. And Meaghan had her birthday at a tepanyaki place where she got to try cooking on the griddle herself, and then she went off to spend the entire summer at a camp near the Ingram summer homestead in the Ottawa Valley, where she was a counsellor and kitchen staff and had a fantastic time. At one point during the summer, she had her little sister Zoe and about six of Zoe's cousins and friends there as well, and she was so professional that she only tormented them a tiny bit here and there. Caitlin spent the summer taking courses at McMaster, since jobs in nursing proved to be elusive.
Becky and I spent the summer working at the cottage, sitting out on the porch overlooking the lake, with a laptop set up on a table on wheels — and we picked the perfect summer to do it, since the temperatures were in the 30s for weeks at a time. The downside was that we were working, but the upside was that during breaks we could go for a swim, or take a paddle in the new canoe we bought (to replace the one that got crushed by the same tree that took out the corner of the cottage last year). And in August we had a great party at the Farm for Becky's 50th, with cake and ice cream and champagne down by the pond and a wonderful crowd of friends and family.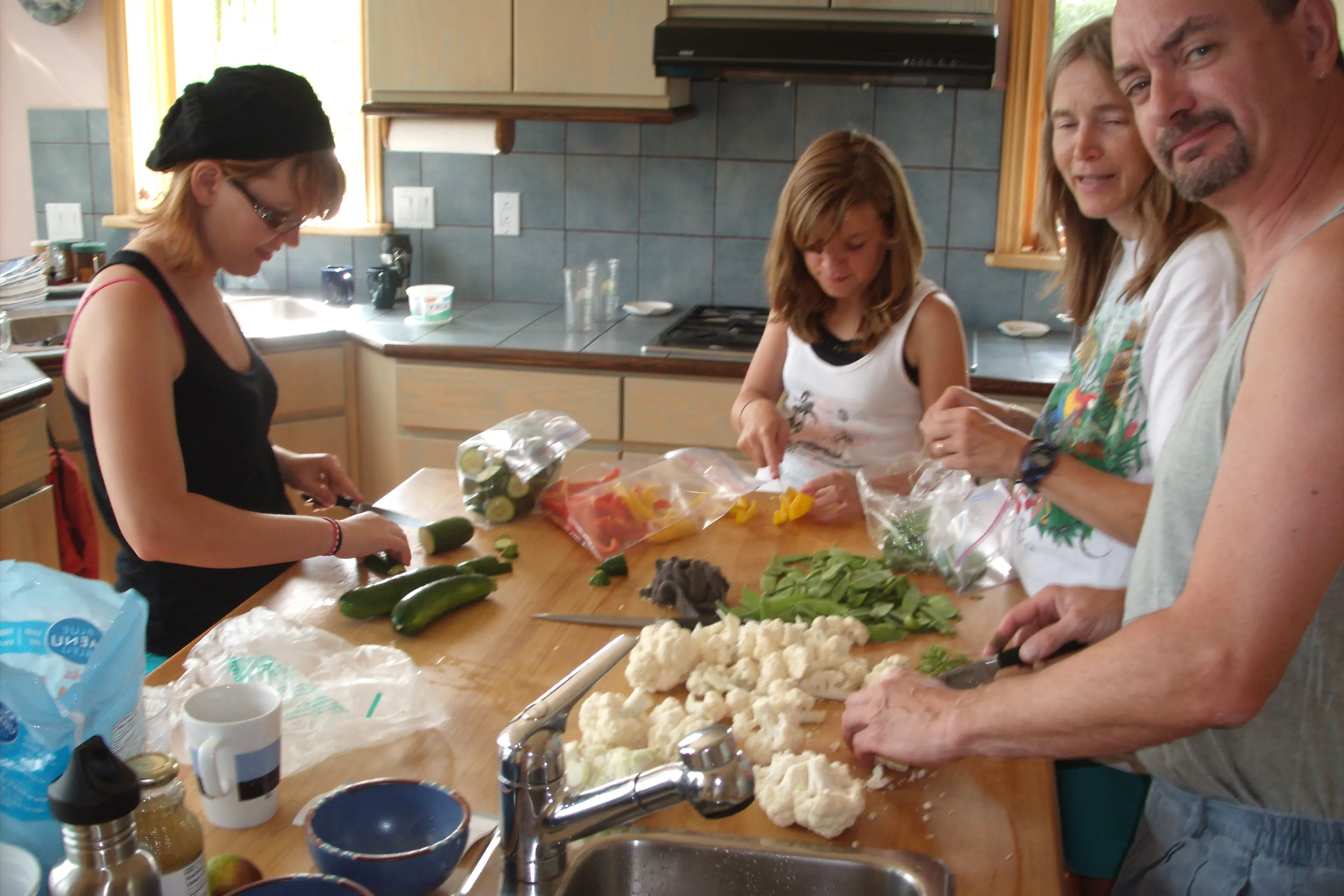 The fall saw Meaghan move into Grade 12, where she has been working like a trouper on the school musical, getting up early and staying late on school days and weekends, along with working at her job at the deli at the local Metro (which did not survive the year, unfortunately). Zoe moved into Grade 6, and seemed to go from being a child to being quite the young lady almost overnight — although she continues to play hockey on both a house league and a select team, where she is a great defenceman and a sometime goalie. And Caitlin started her third year of nursing, and even managed to squeeze in some time to see her family now and then. I made a quick trip to San Francisco, and a bunch of guys I don't know suggested we pretend to be a band shooting an album cover.
The year ended with a fantastic retreat weekend at Blue Mountain near Collingwood organized as a working mini-vacation for the Mesh team and their families. We had a day of meetings at the Westin, but also a couple of days and nights of great foods and skiing and swimming in the outdoor heated pools and hot tubs, topped off by a great Scandinavian spa day for the husbands and wives, with a one-hour Swedish massage followed by a series of hot pools, cold plunges, steam rooms and sauna treatments. A pretty fantastic end to a great and challenging year.
We hope your year was just as good, and that all of your friends and loveds ones are happy and well, and that you get a chance to see them over the holidays. And if we haven't seen you in a while, please know that you are in our thoughts and that we would love to get together sometime. Give us a ring or drop us a line at [email protected] or [email protected]. All the best.