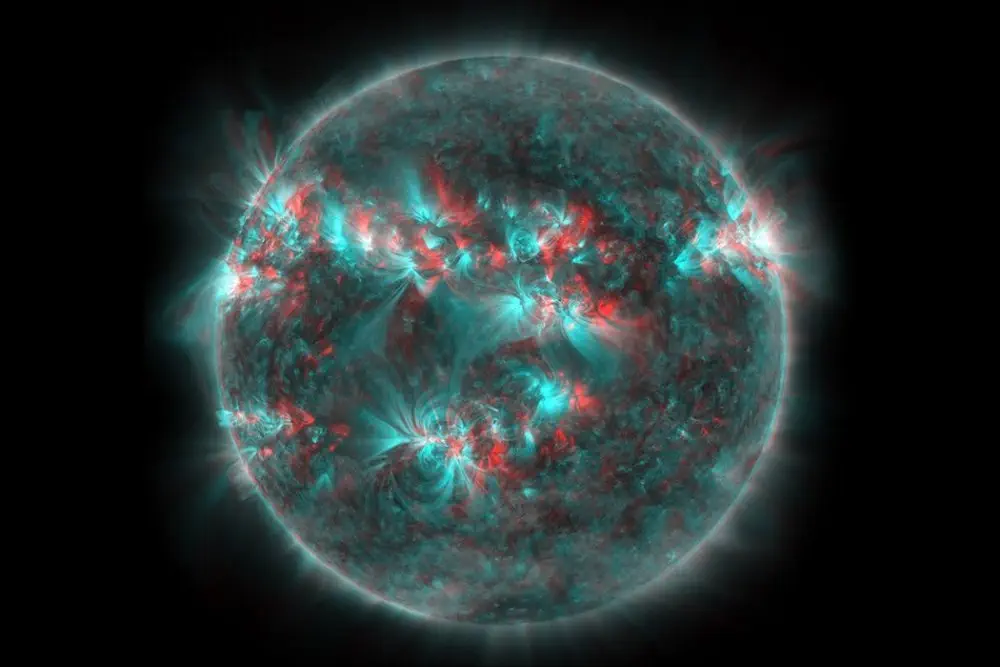 From Jasna Hodžić for JSTOR Daily: "A little after midnight in the late summer of 1859, campers dozing beneath the night sky in the Colorado Rockies woke to a display of auroral light so bright one could easily read a newspaper. In their account of the event, published in the Rocky Mountain News, the party recalled that some insisted it was daylight and began the preparation of breakfast. Thousands of miles away, crowds gathered in the streets of San Francisco with eyes turned skyward. "The whole sky appeared to undulate something like a field of grain in a high wind," wrote one journalist in the San Francisco Herald. The two-day celestial event did more than inspire poetic musings and temporarily confuse songbirds who began chirping in the night. Almost immediately, the world's 100,000 miles of telegraph lines fell silent, victim to a wave of space-borne electric current strong enough to fry the systems."
The time Eleanor Roosevelt disappeared for 10 days
From Sarah Durn for Atlas Obscura: Soldiers nicknamed it "The Island of Death." Hot, humid, and buzzing with mosquitoes, Guadalcanal was a tiny speck of land northeast of Australia in the Solomon Islands. American soldiers unlucky enough to be stationed there during World War II faced constant threats, from malnutrition to Japanese bombardment to tropical diseases. But none of that deterred First Lady Eleanor Roosevelt from visiting the island—she wanted, as always, to see things for herself. In August 1943, she disappeared for 10 days, only to turn up in one of the world's most dangerous war zones halfway around the globe. During her five weeks in the Pacific, she traveled to 11 islands, gave countless speeches, and met 400,000 soldiers. Admiral William "Bull" Halsey, later said: "She alone had accomplished more good than any other person, or any group of civilians, who had passed through my area."
Editor's note: If you like this newsletter, I'd be honoured if you would help me by contributing whatever you can via my Patreon. Thanks!
The long and tangled story of what happened to John Lennon's Patek Philippe watch
From Anthony Traina for Hodinkee: "This photo is watch-collector catnip: John Lennon, one of the most famous people of all time, wearing a Patek Philippe ref. 2499 perpetual calendar chronograph, one of the most important watches ever. Patek made just 349 examples of the 2499 over its 35-year production run. It's complicated, rare, and collectible. Yoko Ono bought the watch for Lennon's 40th birthday, just two months before he was murdered in New York City outside his and Ono's apartment. Just months after this photo, the former Beatle was murdered, and the watch hasn't been seen since.  Thanks to an ongoing lawsuit in Geneva, new information about the mythical Patek's history and whereabouts has surfaced. But the lawsuit is only the beginning of a story of extortion, theft, and a stolen Patek that traveled from New York to Turkey to Germany to Geneva and, perhaps, back home, as well as the legacy Lennon left behind."
Note: This is a version of my personal newsletter, which I send out via Ghost, the open-source publishing platform. You can see other issues and sign up here.
In the 1930's, they rotated an 11,000-ton building while hundreds of people worked inside it
From Ignacio Rodriguez for Arch Daily: "In November 1930, in Indiana, one of the great feats of modern engineering was executed: a team of architects and engineers moved an 11,000-ton (22-million pound) telephone exchange without ever suspending its operations, while 600 employees continued to work inside. In 1929, the Indiana Bell Telephone Company acquired the Central Union, including the offices designed 20 years earlier. As Indiana Bell had a large staff of employees, the initial plan was to demolish the building, but that would require cutting off thousands of phone lines. So the architect proposed an alternative: relocate the building. Over 34 days the 11,000-ton building was moved 16 meters and rotated 90 degrees, without interrupting the operators servicing thousands of calls nor the supply of gas, water, and electricity to the building."
The man who built the biggest match-fixing ring in tennis
From Kevin Sieff for The Washington Post: "On the morning of his arrest, Grigor Sargsyan was still fixing matches. Four cellphones buzzed on his nightstand with calls and messages from around the world. Sargsyan was sprawled on a bed in his parents' apartment, making deals between snatches of sleep. It was 3 a.m. in Brussels, which meant it was 8 a.m. in Thailand. The W25 Hua Hin tournament was about to start. Sargsyan was negotiating with professional tennis players preparing for their matches, athletes he had assiduously recruited over years. He needed them to throw a game or a set — or even just a point — so he and a global network of associates could place bets on the outcomes. Sargsyan had crisscrossed the globe building his roster, which had grown to include more than 180 professional players across five continents. It was one of the biggest match-fixing rings in modern sports, large enough to earn Sargsyan a nickname whispered throughout the tennis world: the Maestro."
A literal heavy metal band made of robots plays Motorhead's "Ace of Spades"
From Peter Stewart for The Music Man: "Step aside Metallica, the age of lightweight meat bags playing metal is over. Make way for Compressorhead, the band assembled from spare parts of abandoned machines and fronted by the 350kg Mega-Watson. What can be more authentically heavy metal? In the video of Compressorhead powering through Motorhead's Ace of Spades, below, Mega-Wattson is backed by the four-armed two-legged drummer Stickboy, the dextro 78-fingered guitarist, the more humanoid bass player, Bones, and, Hellgå Tarr, the rhythm guitarist. Does the band really play? They do. With the assistance of Stickboy Jnr who operates the highhat and cymbal, Stickboy plays his drums. Similarly, the guitars are real and plugged into amplifiers. Sadly, Mega-Watson is voiced by recordings of a meatbag vocalist."
The happy face in the forest
From Science Girl on Twitter: "David Hampton planted douglas fir and larch trees in a forest in Oregon to resemble a face. Every autumn the larch pines turn orange and the smiley face stands out. The face is about 300 feet in diameter."