According to a report in the New York Post, and confirmed by this post at the company's site, the environmental awareness network known as Treehugger.com has been acquired by the Discovery Channel for what the Post says is $10-million and PaidContent says is about $15-million (including "earnouts," which are payments based on future performance).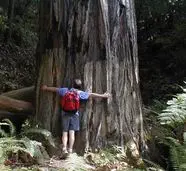 Treehugger has been around since about 2004, and is based in New York, but its founder Graham Hill is a Canadian from Ottawa, who got his start during the first Web boom with a design company called SiteWerks (he is also designed and sells this New York souvenir). According to Treehugger, the site has close to 2 million unique visitors a month and about 3.5 million page views. Hill says in his post on the sale that the company was approached by about 15 potential buyers and/or partners. Discovery apparently plans to make the site the online component of its Planet Green effort.
Interestingly enough, Nick Denton — founder of Gawker Media and former editor of Valleywag — apparently played a role in Treehugger getting started, and reportedly still has a stake in the company as well. Treehugger also has a Digg-style social networking site called Hugg.com. And as CNN Money's blog points out, the deal for the environmental media hub is the second big deal for an online media property this month, coming on the heels of the $23-million acquisition of MediaBistro by Jupitermedia.