As Mark Twain once said, everyone complains about the weather but no one ever does anything about it. Well, lots of people complain about Yahoo too — about how it is big and bloated and unfocused and is losing ground to Google, not to mention the fact that its peanut butter is spread too thin — but is anyone doing anything about it? Eric Jackson is trying to.
Eric, a Yahoo shareholder and management consultant who writes a blog called Breakout Performance, is like Peter Finch's character from the movie Network. He's mad as hell and he's not going to take it any more. So Mr. Jackson wrote a post called Yahoo Plan B, complete with a video clip of himself describing said plan, and sent it out to various places, including YouTube.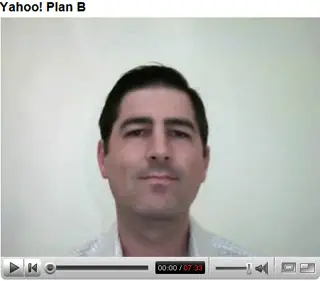 In a nutshell, Eric is trying to get a wave of shareholder support for change, in the same way that activist hedge funds and other prominent investors often do, except he's starting with blogs and YouTube and wikis instead of a board seat and a couple of hundred million. He says:
Yahoo! is drifting; and its board and management have been too slow to act to this fundamental problem. As shareholders, we don't have to sit by and watch this.

Activist Investing has principally been the domain of hedge funds — well, no longer. With the help of the web, blogs, and wikis, I'm asking all current and future retail investors in Yahoo! to join me in pushing for a change.
So far, Eric has gotten some favourable press at TheStreet, as well as from former trader David Neubert, and the Internet Outsider blog, written by former analyst and Bubble 1.0 cheerleader Henry Blodget.
Eric says he has received many emails of support, and now has shareholders with more than $1.7-million in Yahoo stock who are backing his campaign. Not exactly a hedge fund, but not a bad start. Good luck with the crusade, Eric.
Update:
Eric's campaign now has a wiki as well, at Yahoo.Wikia.com.