It would be funny, if it didn't hit quite so close to home for a long-time newspaper guy like me. Aw, what the heck, it's still pretty funny, even if it does hit pretty close to home — kind of like when someone makes a crack about your weight and you find yourself laughing along with them, despite the fact that they effectively just called you a lard-ass.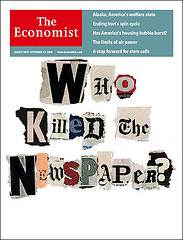 What's so funny? Before I had a chance to read AP chief executive Tom Curley's closing speech at the Knight-Bagehot dinner on Thursday, I read Henry "I used to be a famous Wall Street analyst" Blodget's summary and rather pointed annotations of the speech at Silicon Alley Insider. Many of the jabs that Blodget took were well-deserved, including the ones that seemed to suggest an inspirational talk such as Curley's might be coming, well… a little bit late in the game, shall we say. At the same time, however, it's nice to hear the senior executive of a news organization — any organization — saying some of the things he says, including these tidbits:
"I've been inside many major news organizations the last couple years, and, invariably, I hear the same refrain. We know what to do, but we can't get it done.

Or, sadly, we're in worse shape than we were two years ago because we're spending even more proportionately trying to keep the old model functioning.

More than a few persist in trying to make their online sites life rafts for newspapers or newscasts."
At one point, Curley says "we who rule the content," which is a little much — but then you have to consider the audience he's speaking to. No one would have even flinched at that phrase. He also talks about how AP and other news providers have to "get control" of their content, which I would argue is a losing battle — and it's an odd statement given the deal that the AP struck with Google to host stories at the Googleplex.
But a little later the AP chief almost makes up for all of that by saying "The first thing that has to go is the attitude. Our institutional arrogance has done more to harm us than any portal." If only saying it would make it so. Rafat Ali has more coverage at PaidContent, and NYT tech editor and blogger Saul Hansell has some thoughts as well.