I apologize to all of those who may have already seen and heard about him before, but I only just got a chance to check out Paul Potts, the cellphone salesman and former supermarket shelf-stocker from Wales who won the Britain's Got Talent show with a mind-boggling rendition of the Puccinia aria Nessun Dorma. Someone mentioned it at work last week, but I didn't get a chance to see the video clips until now, and they are incredible.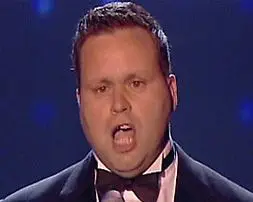 Start with the semi-final performance, and then check out the winning performance (singing starts about 4 minutes in), and if you want to see more there's a clip of Paul on NBC's Today Show. There's no question that a big part of what caught the public imagination about Paul is his underwhelming appearance — somewhat pudgy, with bad teeth — and his shy, unassuming personality, coupled with a tremendous operatic tenor voice.
There was some controversy when British newspapers reported that he took opera lessons and even performed for Pavarotti, and had performed with a local opera company. But Potts said he paid for those lessons out of his own pocket and that the opera company was volunteer. After being diagnosed with a benign tumour and fracturing his collarbone falling off his bike, he was deeply in debt and took a job at Carphone Warehouse.
Now he is $200,000 richer and will be performing for the Queen and the Royal Family at the annual Royal Variety show.
[youtube https://www.youtube.com/watch?v=1k08yxu57NA&w=425&h=350]