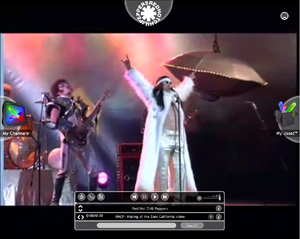 It may not be a $1.6-billion takeover, but Joost seems to be doing pretty well nevertheless, attracting $45-million in funding from a group of backers — including CBS and Viacom, two of the TV networks it has signed content deals with. Obviously, they have decided that Joost is the horse they want to put their money on when it comes to Internet television. As Om notes, among the other investors are Sequoia Partners (also a backer of YouTube) and Index Ventures, whose partner Danny Rimer made a gazillion or so dollars by investing in Skype before it was bought by eBay. So I would imagine that he probably likes Janus Friis and Niklas Zennstrom just a little bit.
Nick O'Neill of Webpreneur says that Joost is about to pull off "one of the biggest fear-driven deals in history" by playing on the networks' fear of the Internet, and Kara Swisher says on her Boom Town blog that the networks like it because "It looks and feels like a replication of the old television broadcast model," which is a point I have also made in the past.
The alarm:clock blog says you will watch Joost, but Adario Strange at Wired's Epicenter blog says it's too buggy and too much trouble. And over at NewTeeVee, Om Malik makes some excellent points about the growth of Joost and the weaknesses of the peer-to-peer model for something like video. The bottom line: It may not be as easy to do as it was for voice with Skype. Meanwhile, Heather Green has some comments from investor Danny Rimer about what makes Joost so great.