One of the sure signs that something is important is when opinion on it keeps ping-ponging back and forth, between those who say it's irrelevant and those who say it's the best thing since cheese in a spray can. And if there's anything that draws that kind of polarized commentary, it's Second Life. This week alone, we had a story about IBM's embrace of the virtual world, and Darren Barefoot's hilarious send-up, Getafirstlife.com. And now the BBC is planning its own Second Life for kids.
Meanwhile, Clay Shirky teamed up with Valleywag to pore over Second Life stats and conclude that the whole thing is overhyped, and there was a recent announcement that Second Life was going to open-source the software interface to the game. And virtual millionairess Anshe Chung claimed copyright infringement after being attacked by giant flying penises.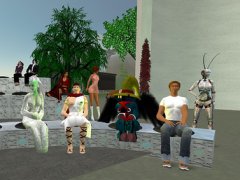 Is Second Life a joke? Yes, in a way. Not only is it weird to be flying around in a blocky universe (let alone the penises), but it's a little goofy that people try to promote the business aspects of the virtual world while sporting avatar names like ePredator Potato — the name of IBM's Second Life evangelist. And yet, there is clearly something there. No doubt many people thought the idea of uploading videos was a joke too, or using the Internet as a phone.
Ethan Kaplan is right, there are still issues with Second Life (Webomatic has had some too), including lag and other problems. And Valleywag's informant is correct that the financial side is closer to a pyramid scheme than a real business. But those issues will be fixed — if not by Second Life, then by someone else.
I came across a post that made some good points on (where else) Second Life Insider. Everyone likes to talk about how Second Life is dumb because, well… it's virtual, instead of real. So if you talk to someone on the phone, is that real? Of course it is. How about if you message them using MSN? So why isn't chatting with them while flying around in a video game just as real?
Update:
There have been several reports — which Mike Arrington of TechCrunch summarizes here — that Google might be looking at turning Google Earth into some kind of virtual world a la Second Life.