There have been plenty of attempts over the years to get e-books to go mainstream. Half a dozen companies have tried to sell electronic-book devices, and failed miserably. Sony has a new eReader available, but if it's anything like its predecessors it will prove to be too bulky, too expensive and just too geeky for anyone but a few nerds to use with any regularity.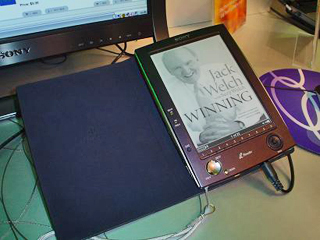 But that's a hardware issue. Books as software — software you can carry around with you — makes a huge amount of sense, whether you read them on your Palm or BlackBerry or an eReader. And according to a piece in the Sunday Times, our friend Google could give that phenomenon a big boost with the plans it is working on right now. The story says that:
The internet search giant is working on a system that would allow readers to download entire books to their computers in a format that they could read on screen or on mobile devices such as a Blackberry.

Jens Redmer, director of Google Book Search in Europe, said: "We are working on a platform that will let publishers give readers full access to a book online."
The proposed service would be integrated with Google's Book Search service, which allows surfers to see a sample of a book and find places to buy it (publishers involved include Penguin, HarperCollins and Simon & Schuster). I figure it should be as simple as a button that says "Click here to download this book," but no doubt there are all kinds of DRM issues involved. Google's Redmer said the project would likely become a reality "sooner rather than later".
More on the topic from David Rothman at Tele-Read and the gang over at Slashdot — and Webomatica (who has worked for a couple of e-book providers) has some thoughts that are well worth reading as well.