I wish I could say I was surprised that all is not well at Backfence, the local "citizen journalism" site, where the second of the co-founders, CEO Susan DeFife, just left (the first, Mark Potts, left a few months ago) and about a dozen employees — out of a total of 18 — are being let go, according to a post by Peter Krasilovsky.
Potts is to act as interim CEO while the company tries to restructure itself, according to the post at Local Onliner. DeFife says that "Ultimately, we did not share the same strategic vision for the company as the board of directors." The company got $3-million in financing in 2005 from a group of venture capital funds, including the Omidyar Network. Apparently, Backfence's backers didn't think things were going well, and pulled the trigger.
I don't live in the areas covered by Backfence, which has 13 sites in three metropolitan areas (Washington, Chicago and the Bay Area), but I have taken a look at it from time to time because I'm interested in local citizen journalism efforts — and spent a bit of time looking at Backfence after it absorbed Dan Gillmor's failed local CitJ experiment, Bayosphere, which I wrote about here. And it certainly never seemed like a thriving entity to me.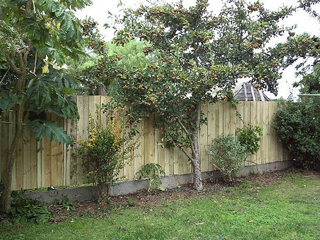 Like Frank Barnako, who has written about it here and who also wrote skeptically about it about a year ago, it just seemed stale and unappealing to me, not to mention a little bit like a ghost-town. I would agree with Frank that in order to draw people in, a local site has to live and breathe the area it covers, and have lively personalities and content. And maybe giving citizen journalists some financial incentive might help too.
How all that happens exactly, I don't know, but it is possible to do local journalism — SunValleyOnline.com seems to be doing well, and so does Baristanet.com. And the Fresno Bee, owned by McClatchy, just finished acquiring a couple of local sites that seemed quite successful: ModestoFamous and FresnoFamous. Did the founders sell because it wasn't a viable business, or did McClatchy want them because they had something the chain needed? Perhaps a combination of both.
In any case, I will leave it to others to decide whether Backfence failed because it took the wrong approach, or because local online journalism doesn't work. My bet is on the former rather than the latter. Howard Owens has also written about the recent news, as have the gang over at PaidContent. Greg Sterling at Screenwerk says that winning with a locally-focused website is "like climbing Mount Everest."
Update:
Tish Grier, who comments below, has written a post about local content and monetization here, and Fred "A VC" Wilson has written one as well talking about how he believes it isn't about trying to attract a community but about aggregating posts from a community that already effectively exists — and I believe he is right. Someone is going to do that, either the local paper or a startup (or both put together, as the FresnoFamous case illustrates).
Update 2:
More on the saga here at Jay Rosen's NewAssignment, and at Citizen Media Watch, where blogger Lotta Holmstrom got an email from Mark Potts about the restructuring of the site, and later did a short email interview with him. Greg Sterling also talked with Potts about the restructuring and some of the strategic changes he wants to make, and wrote about it here. And Robert Niles has a great look at building communities online at the Online Journalism Review, entitled "Fake grassroots don't grow."
Update 3:
The New York Times had a piece about a network of local "citizen journalism" sites called American Towns, but not everyone was impressed. Tish Grier, for example, said that American Towns is more like "citizen shovelware." Good one, Tish. And according to a story in the Washington Post, Backfence appears to be headed down the tubes: One angel investor said that arguments between backers and founders has "destroyed the company" and that it has "downsized to a modest team of people and they're out of money." Someone who has spent some time on the sites posts their thoughts here.