Like most bloggers, I think I tend to take the power of the link for granted. I write things, I link to other bloggers and to websites, etc. etc. — that's how it works, right? Carry on — nothing to see here. And yet, every now and then something comes along that reinforces just how powerful a simple link can be. The latest example was a post I came across at The Blog Herald, written by Jason Kaneshiro, who writes a blog at Webomatica.com.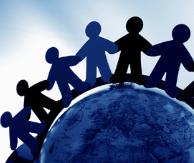 Not to get too self-referential or anything, but Jason talks in the post about how a link from me helped inspire him in his early days as a blogger, a topic that he arrived at after reading a similar post by Lorelle Van Fossen of WordPress, called "Changing a Life With a Link." I have to say that Jason's post means a lot to me — in fact, his post may even have as much significance to me as my original link did to him. And yet, I gave virtually no thought to the link when I posted that original item to my blog. I had no idea who Jason was, or what his blog was all about (although I did check out a few of his posts to get a sense of who he was). I just thought he had made a good suggestion, so I linked to it. End of story — or, as it turned out, beginning of story. Apparently a link I gave him made a difference to The Last Podcast as well.
As I mentioned in a comment on Jason's post, that's what is so great about the blogosphere. Who Jason was — or how long he had been blogging, or what his background was — was of no interest to me. It was quite literally irrelevant to whether his post made sense or not, just as it was irrelevant to me who Tony Hung was when I first started reading his blog at Deep Jive Interests (Tony is also the editor at The Blog Herald now).
And if nothing else, Jason's story has reinforced in me the desire to link to as many different voices as possible. I already do my best to find new blogs and links, instead of always linking to TechCrunch or CNET or places like that, but I could do better. I remember my blog friend Kent Newsome (who got mad at me recently for a link I inadvertently removed) had a project called "Second Opinion," in which he tried to get bloggers to link to new voices, and I thought it was a great idea — and still do. Links are powerful things.