Accenture has a study out that interviewed senior media executives for their views on user-generated content — or whatever we're calling it now — and found that they are not just taking it seriously, they are outright afraid of what it could do to their businesses. "Media and entertainment executives see the growing ability and eagerness of individuals to create their own content as one of the biggest threats to their business," the survey said.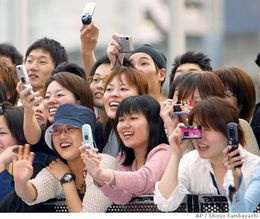 According to Accenture, more than half of the survey respondents said the rapid growth of user-generated content is one of the top three challenges they face today. More than two-thirds said they believe that social media, one of the largest segments of user-generated content, will continue to grow. Two-thirds said they believe that within three years they will be making money on user-generated content, with most of these saying they expect to make money through advertising and sponsorships. Others said subscriptions and pay-per-play — while a quarter of those surveyed said they don't know how they will make money from user-generated content.
Those surveyed included industry giants like Roger Faxon, chief executive of EMI Music Publishing; Leslie Moonves, chief executive of CBS; Doug Neil, senior vice president of digital marketing for Universal Studios; and Sir Martin Sorrell, chief executive of WPP Group PLC.