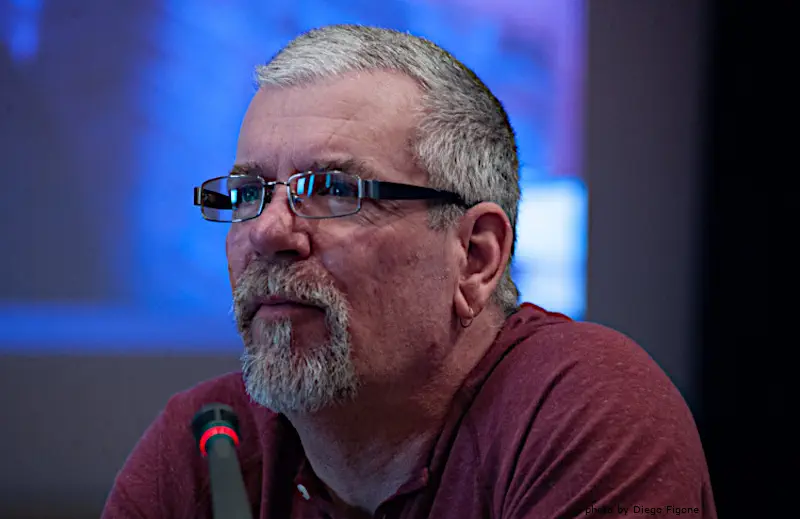 The short version:
My name is Mathew Ingram, and I am currently the chief digital writer at the Columbia Journalism Review in New York. Prior to that I was a senior writer at Fortune magazine, where I wrote about the evolution of media and the social Web, and before that I was a senior writer at Gigaom, at the time one of the leading technology blog networks in the United States. I write about the evolution of media and content and all that involves, including social media, Google, and the web in general.
Up until January 2010, I worked for The Globe and Mail, a daily national newspaper based in Toronto, for about 15 years. I wrote about the stock market and then about oil and gas, and then became one of the first employees of the Globe's breaking news website in 2000. I wrote about technology and the web, set up the paper's first blog, and then became the Globe's first "communities editor," a new position aimed at helping make it easier for readers to interact with the paper and its writers and content. I set up the paper's Twitter account and Facebook page and helped introduce a new comment moderation system.
I write on my personal blog about personal things, as well as things that don't really fit in with my work assignments, and interesting sites and articles I come across. I also post things I've written for CJR, as well as a daily email newsletter where I collect interesting links, called When The Going Gets Weird, which you can find here. You can find me on Twitter, as well as on Mastodon. Feel free to email me at [email protected] — I can't guarantee that I will reply, but I will do my best.
The long version:
I was born in a little town called Zweibrucken in Germany in 1962, while my father — a fighter pilot in the Royal Canadian Air Force — was stationed there. We came back to Canada when I was little and lived on Air Force bases in a number of different places, including Winnipeg, Manitoba; Cold Lake, Alberta; Downsview, Toronto and Chatham, New Brunswick. I went to the University of Waterloo and got a degree in English, then went to Ryerson University in Toronto and got my journalism degree.
I worked at the Globe and Mail and the London Free Press for a summer each, and then moved to Edmonton to work for a legendary newspaperman and hellraiser named Ted Byfield at a weekly magazine called Alberta Report (which is now defunct). I moved back to Toronto in 1991 and worked at the Financial Times of Canada (now also defunct), then moved to the Globe to write about the stock market.
After several years of doing that, I moved to Calgary and wrote a column about Western Canadian business, then in 2000 I moved back to Toronto to become the online business columnist for the Globe's relaunched website — possibly the first online-only columnist in Canadian journalism. I wrote about business and technology (and started the Globe's first blog) and then moved into writing about new media.
In 2008, I became the paper's first communities editor, a job that was designed to help writers and editors learn about and employ "social media" tools such as Twitter and Facebook to connect with readers. I launched the ground-breaking Policy Wiki (which unfortunately no longer exists), re-launched the Globe's Facebook page and helped design and/or implement a number of social-media tools.
In 2010, I left the Globe and joined a weblog network called Gigaom, run by my friend Om Malik and based in San Francisco. I worked there for five years, travelling back and forth to San Francisco and to New York, where we acquired a blog network called PaidContent. I produced a media conference of the same name in New York, which we held at the Time-Life building, right across from Radio City Music Hall, probably the highlight of my media career. Unfortunately, Gigaom ran out of money and shut down in 2015 and we all lost our jobs. A group of us joined Fortune magazine, and then in 2017 I was laid off, and shortly afterward joined the Columbia Journalism Review.
I live in Ontario with my wife Rebecca, where I enjoy playing the guitar, kayaking around on Canada's innumerable lakes and rivers, hiking and biking through the wilderness, a good cup of coffee whenever possible, and reading about the ongoing disruption of the media ecosystem as we know it.